PLEASE REVIEW STEPS BELOW. PLEASE BE PATIENT AS OUR BUSINESS WAS NOT DESIGNED TO WORK THIS WAY.
**Attention** We are phasing back to indoor dining and will no longer be doing in car pickups, please follow Walk Up instructions.
Call us to place an order we will collect your information. At this point we are not accepting cash, so have a card ready. We will quote you a time to show up. Please do not arrive until the time quoted. Our online ordering system is still in Beta testing. Choose "LATER" and pick a future time, if you choose "NOW" you will not know when your order will be ready!

BEER MENU
---
We All Can Do Better ($7)
A West Coast IPA collaboration between San Fransisco's Cellarmaker and Assembly Brewing as a fund raising effort for Brews for New Avenues, a Portland based non-profit aiming to help eliminate homelessness amongst young people. We Can dDo Better's recipe is undeniably modern West Coast with a light coloredappearance and crisp malt and ho flavor. The aroma is a combo of big grapefruit, pine and lemon notesfrom tried and true Oregon grown Chinook alongside guava and pineapple from a blend of sexy new hops (Galaxy, Talus and HBC 630). Medium bitterness keeps the finish interestingand alluring. A perfect beer to enjoy with some Dtroit-style pizza! (16oz. cans available)
$10 for fresh poured 32oz. Crowlers
(unless otherwise noted)
$5 for single 16oz Cans
(price break with 4-pack)
—
Comet Freshie Pale 
Fresh Hop Pale featuring Comet Hops. Herbaceous and woody with a Grapefruit and Tangerine punch.    5.8% ABV
—
Tropical
Tangerine, coconut, tropical fruit and stone fruit aromas with hints of cedar, mint and cream. Featuring Sabro hops.   6.9% ABV
—
NW IPA
Brilliantly clear and easy going down. Stonefruit melds with citrus with a pungent, but not overwhelming finish. Mosaic, Citra and CTZ.    6.4% ABV
—
Kolsch
Herbal, earthy and brilliantly clear with a light hop character throughout, this ale will make you think it's a Lager!    5.5% ABV
—
Golden
Light and easy drinking Ale for those nice Summer days.    5.4% ABV
—
Stout
Hearty, with a bold aroma and flavors of semi-sweet chocolate and roast with a dry finish.    6.8% ABV
—
Live PA
A malty IPA with caramel notes. Centennial hops lend a sweet orange aroma and lemon notes on the finish.    6.3% ABV
—
Amber
Bright, easy drinking and delicious. Malt forward, but not too sweet.   
5.4% ABV
—
Azacca
A single hop IPA featuring Azacca hops. Pine, Pineapple and citrus notes with a slight bitterness.    6.5% ABV
—
Sauce on Top IPA
Citra, Ekuanot and Azacca Hops. Dark stone fruit with hints of pineapple. 6.3%ABV
—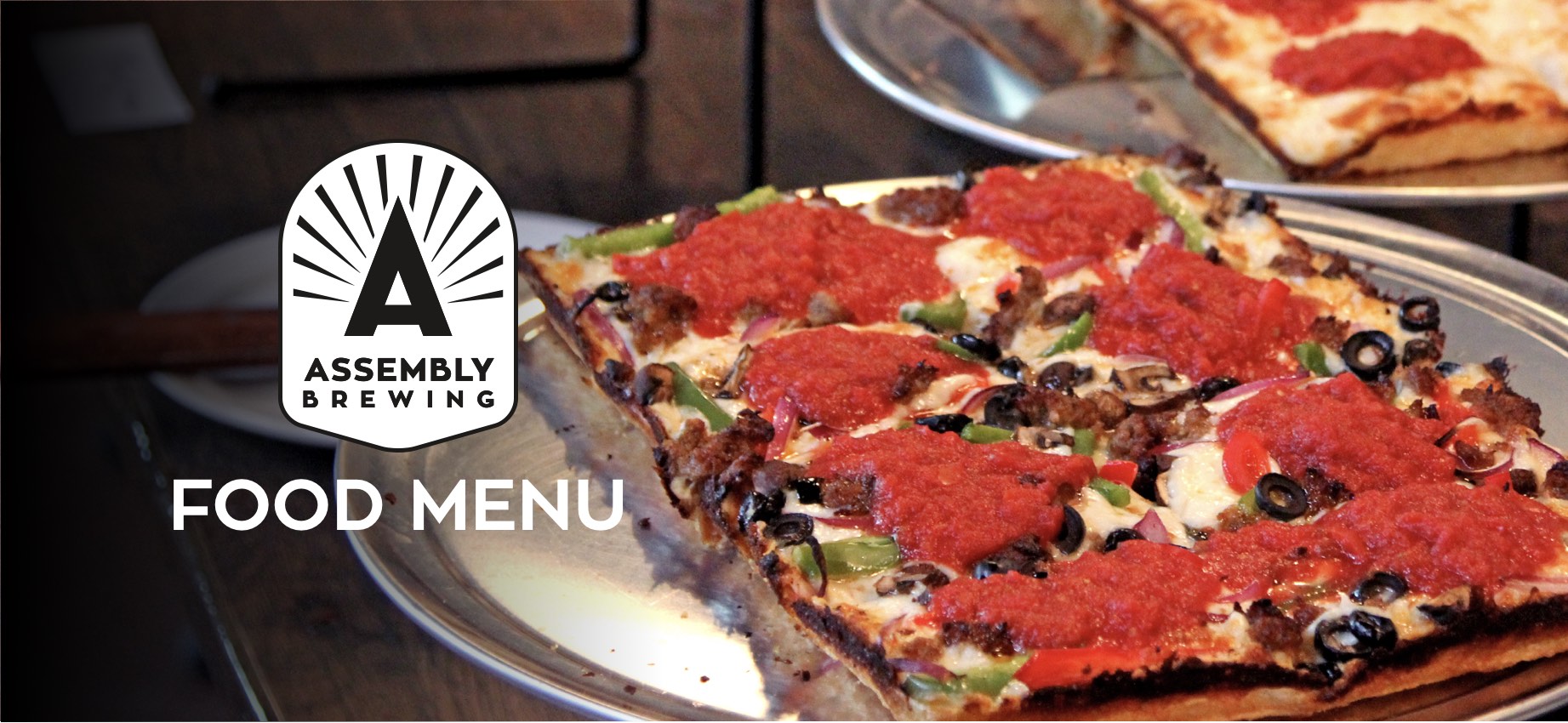 STARTERS
---
Grilled Chicken Skewers
Marinated in olive oil and fresh herbs, served with sweet chili sauce
$8
Artichoke Dip
Served with toasted An Xuyen French bread
$8
Spinach & Artichoke Rolls
Brushed with garlic butter, filled with spinach, artichoke, feta, cheese blend and served with marinara
$7
Pepperoni Rolls
Brushed with garlic butter, filled with pepperoni, cheese blend and served with marinara
$6
Breadsticks
Brushed with garlic butter, cheese blend and served with marinara. Or make it vegan with Rosmary Herb oil
$6
SALADS
---
Seasonal House
Arcadian mixed greens, walnuts, candied cranberries, blue cheese and citrus vinaigrette
$6/11
Caesar
Romaine lettuce, shredded Parmesan cheese,  house-made croutons and Caesar dressing
$6/11
Greek
Cucumbers, feta, Kalamata olives, cherry tomatoes, red onions and Romaine lettuce with house-made Greek vinaigrette
$6/11
Add grilled chicken
$3/5
SANDWICHES
---
All sandwiches served with kettle chips and a pickle, substitute side salad for  $4
Roasted Veggie Sub
Grilled marinated Portobello mushrooms, red and green bell peppers, onion and artichoke hearts with Greek vinaigrette and provolone cheese on An Xuyen French bread
$13
Meatball Sub
House ground beef and pork meatballs, marinara and provolone cheese on An Xuyen French bread
$13
Pesto Panini
House made pesto, provolone cheese and mayonnaise on An Xuyen Shokupan milk bread. Choice of grilled chicken breast or Portobello.
$13
Ham and Apple Panini
Natural Blackstone ham, Granny Smith apples, dijonnaise, sharp aged cheddar on An Xuyen Shokupan milk bread.
$13
DETROIT-STYLE PIZZA
---
Our signature Detroit Style Pizza with house-made "what up dough" is true to form representation of this regional classic. All pies are hand-made to order and can be made vegan for $3/5.
10" by 8" (4 slices) or 14" by 10" (8 slices)
Cheese
$14/ $23
Pepperoni
$16 / $26
Meat Lovers
Pepperoni, Canadian bacon, salami,
bacon and Italian sausage
$20 / $31
"The D"
Pepperoni, Canadian bacon, mushrooms,
onions, and green pepper
$20 / $31
Popeye
Spinach, feta cheese and black olives
$18 / $29
Hawaiian
Canadian bacon, bacon and pineapple
$18 / $29
Supreme
Pepperoni, Italian sausage,
green and red bell peppers,
red onion, mushrooms, and black olives
$20 / $31
Veggie
Green peppers, red onion, mushrooms and black olives
$18 / $29
Veggie Gourmet
Red peppers, caramelized onions, artichoke hearts,
Kalamata olives and feta cheese
$20 / $31
Custom Pizzas
$14 / $23
plus toppings
Veggie Toppings 
$2 / $3
Red or Yellow onions, black olives, red or green bell peppers, pineapple, jalapenos, spinach, Roma tomatoes, mushrooms
$2.50 / $3.50
Confit garlic, Kalamata olives, feta cheese, caramelized onions, artichoke hearts
Meat Toppings 
$2 / $3
Pepperoni, Italian sausage, bacon, salami, Canadian bacon
$2.50 / $3.50
Grilled chicken, house ground meatballs
$3 / $5
House made vegan sausage