​Assembly Brewing was founded in March 2019 with a mission to bring people together to enjoy balanced beer and authentic Detroit-style pizza. The SE Portland 15 barrel capacity brewpub is Oregon's first Black-owned and operated brewery.
George Johnson, founder, head brewer and pizza chef built Assembly Brewing on a neighborhood craft-brewery dream that caters to patrons 21 and older. Backed by his Detroit roots, proprietary dough recipe, and approachable craft beer, Johnson looks forward to the time we can once again come together.
There was a time I hated beer. Yet, I still drank the domestic swill that was popular. After my first craft beer, Bell's Third Coast Ale, I became a beer fanatic.
My first homebrewing experience was in the early '90s as a teen in Boulder, Colorado. Many brews later in 2014, I completed the Intensive Brewing Science and Engineering courses through the American Brewers Guild, interned at Hopworks' Powell brewery and was also recognized by the Beer Judge Certification Program (BJCP).
"My philosophy is to brew balanced and accessible ales for the people."
"Assembly Brewing beers are not trendy; the styles are timely, yet familiar and approachable."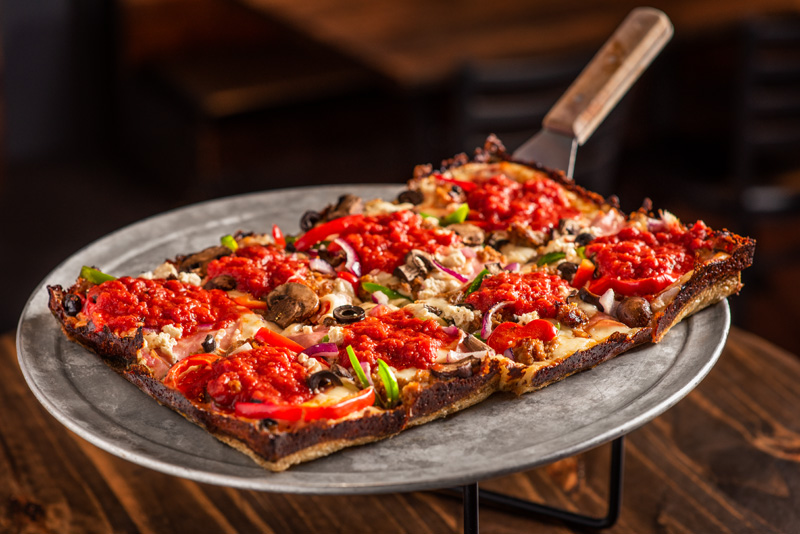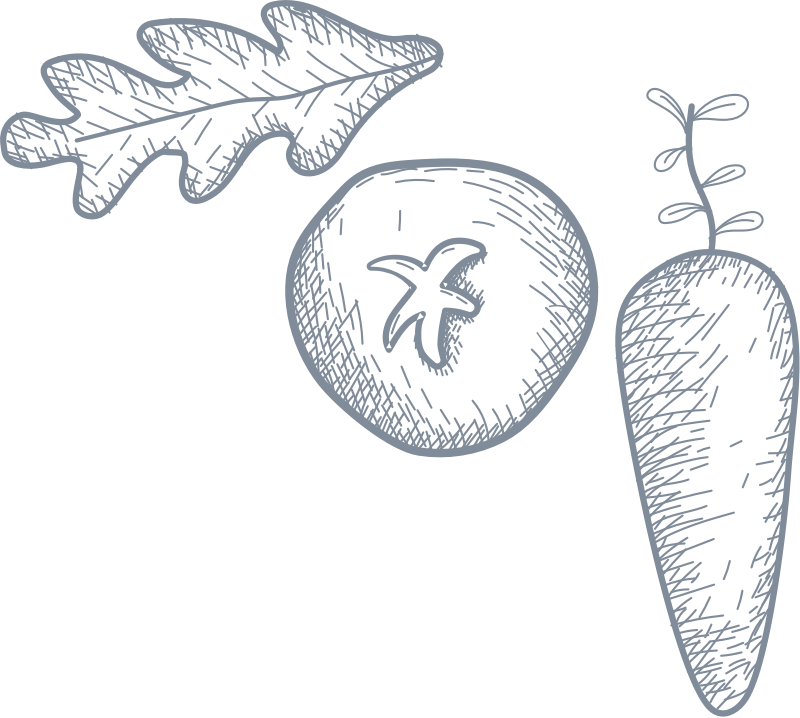 Traits of an Authentic Detroit Style pizza:
Square (rectangle really)

Pepperoni is placed on the dough for maximum flavor

Wisconsin Brick cheese is used

Carmelized cheese fuses to the edge of the dough

Sauce is on the top

Dough has 70% Hydration

Crispy on the bottom, light and chewy in the middle
I started making Detroit-style pizza out of necessity. I grew up eating this deep dish pizza on special occasions and after moving away, I would get it every time I visited.
After a lapse of traveling there, I decided I needed the pizza! So, I started recipe trials and came up with a delicious pie that I shared with my community.
The timeline of further developing my proprietary recipe was serendipitous. I found out that I got admitted into brewing school and knew the award-winning pizza chef, Shawn Randazzo was training people. (NOTE: Sadly, Shawn Randazzo passed away on Saturday, December 5, 2020, at age 44.)
I had a trip planned to return to Detroit for the techno fest and asked Shawn if he could train me that week. He said yes! Little did I know the complex history and how it would impact my career.
The phenomenon of Detroit deep dish pizza started in a 1946 blind pig owned by Gus and Anna Guerra. They acquired and repurposed blue steel spare parts trays from the assembly lines and cooked Anna's pizza in them. There is a shady history of people stealing recipes that led to several restaurants.
The late Shawn Randazzo trained under the original family and opened the only franchise of their second restaurant. Eventually, he developed his recipe and opened his own restaurants. As the 2012 World Pizza Champion, he was in an elite group and wanted to spread the knowledge and love of "Authentic Detroit Style Pizza." He set out to train 12 people from around the world in the traditional technique and gave each of them a unique dough recipe that was a variation of his own award-winning recipe. I trained with Shawn in 2014, and was the 10th person on his team, and the only one to represent the Northwest. Shawn also came to Portland in March 2019 when we opened to train the Assembly staff.
-George Johnson
Preheat the cooking surface to 350 degrees Fahrenheit.
Spray or drizzle water on top of the slice away from the crispy parts
(edges and the bottom)
Heat for 3-8 minutes
Enjoy!
Preheat the cooking surface to 350 degrees Fahrenheit.
Spray or drizzle water on top of the slice away from the crispy parts
(edges and the bottom)
Heat for 3-8 minutes
Enjoy!
The mural in the dining room is based on Diego Rivera's Detroit Industry Murals, housed in the Detroit Institute of Arts. This was my favorite room in the museum since I was a child. In 2017, I was at a jazz concert with my father in that room, when I looked at the walls and saw that the figures on the assembly line could be making beer, I realize that that would complement the long walls of our pub. It seemed like a good solution to the problem of not being able to see the brewery equipment from the dining room floor.
I posted the need on Facebook and Theo Holdt was one of my friends that responded. He hooked up with Geahk Burchill +3 and they made my vision a reality.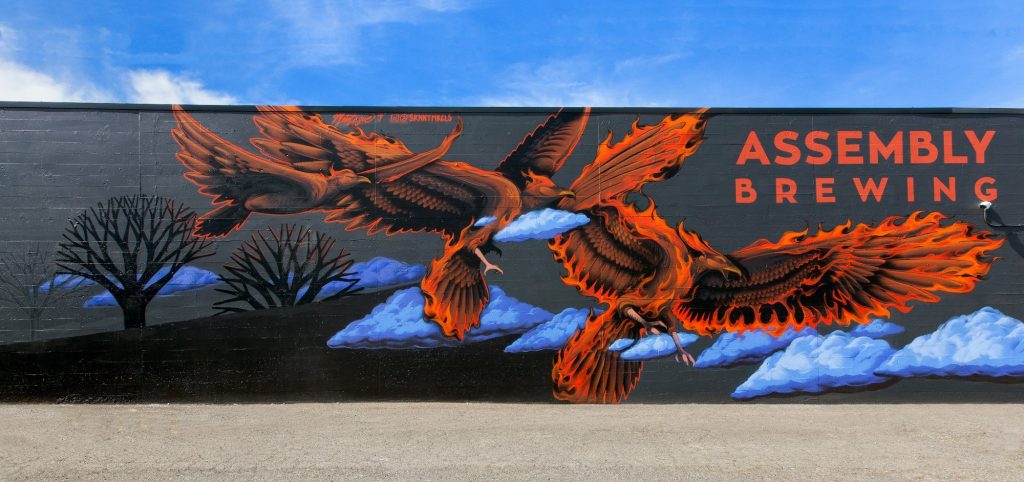 Before Assembly was conceived the outer east wall was occupied by a Dragon. The Dragon had to go away, but another mythical creature arose, the Phoenix. The Phoenix is a sign of resilience and will to survive. Like the Phoenix, we will return!